Name; Zhao-?????
Age;???
Gender;Male
Race;Tainted-Elf
Height;7'00
Weight;??lbs.
Hair;Long And Black
Eyes;Red And Purple
Mount;Jet-Black Horse With Red Eyes;Delthmir,A Large Grey Wolf With Purple Eyes;Drakoze
Build;Extremely powerful
Weapons;Tainted Anduril,Unknown.
Armor;Unknown
Apearance;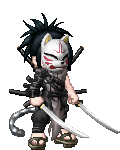 Zhao has been wanted for the murder of his parents and a group of Gondorians. He is a corrput elf known as a "Bloof Elf". He wanders the lands of Mordor in search of prey. He is the reknowned muderer of 6 Elven Princes. Zhao has little family left but it searching for a master.
Personality;
Trustworthy
Cruel
Maliscious
Selfless
Leader